"Vaccine Cabinet Monitoring Solution enables the Centre to easily monitor the temperature of their vaccine cabinets through computers and smartphones. The solution also sends warnings if the cabinets' temperature drops out of the threshold (2C-8oC) or a power outage happens. Globiots IoT solution is an advanced application with various ways to send warnings: app notification, emails, SMS messages, and on-site alarms. With this solution, we are peace of mind because the vaccine cabinets will be monitored online 24/7. In addition, we save time and resource by replacing manual method to record temperature of the vaccine cabinets"
Mr. Vo Trung Hieu – Head of Pharmacy Department
Customer challenges
Preventive Health Centre of District 8, a public healthcare facility, specializes in diagnosing, treating health problems, vaccinating and raising public health awareness. When monitoring its vaccine cabinets' temperature, the centre has encountered the following challenges:
Difficulty to centrally monitor the temperature of all vaccine cabinets as they are scattered throughout the medicine store and the vaccinating rooms.
Having to spend a lot of time and effort to manually record the temperature of vaccine cabinets.
No warnings or alerts when the cabinet temperature is out of range or when power outage occurs.
Globiots IoT Solution for Vaccine Cabinet Monitoring
Daviteq supplies the complete Globiots IoT solution (hardware and software) for temperature monitoring of six vaccine cabinets and for power outage monitoring. The solution initiates on-site warnings as well as transmits temperature data to Daviteq cloud for monitoring with computers, tablets and smartphones.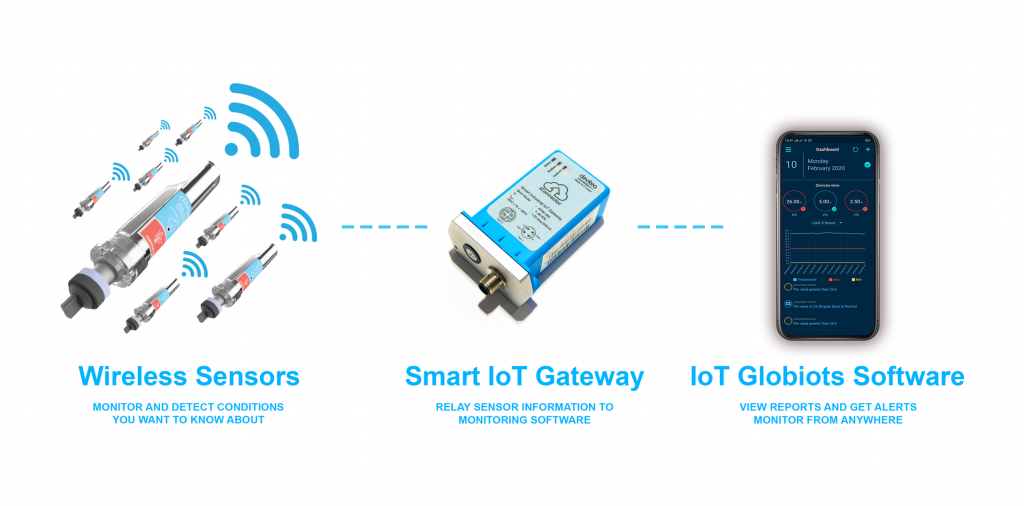 The wireless temperature sensors for vaccine cabinets, wireless digital input sensor for power outage, and wireless relay for on-site alarm are connected to IoT Gateway – iConnector via built-in wireless coordinator using Sub-Ghz technology.The iConnector then transmits data to Daviteq's Globiots Cloud Server using 3G cellular network. When abnormal situations such as over temperature or unexpected power outage occur, the system will immediately send alarm signal to the remote relay to activate on-site alarm horn. The system will also notify alerts to users through apps, emails and SMS messages.Dashboard, warnings, events and reports are displayed in Vizuo web app for online monitoring. In addition, warnings, events and reports are also sent to registered emails.
Solution deployment is simple with only 2 steps.Firstly, iConnector and wireless sensors are installed at monitored places: temperature sensors at vaccine cabinets, digital input sensor at power switchboard, relay with alarm near employee areas, and IoT Gateway – iConnector with built-in coordinator next to uninterrupted power supply. All battery-operated sensors are 100% wireless so no sensor wiring is required.Afterward, devices, parameters, warnings, events, dashboard and reports are configured remotely through web. After configuration, customer use a web browser (Chrome, Firefox..) or mobile apps to login with provided username and password to monitor the temperature and power supply of vaccine cabinets.
Daviteq's Wireless Sensors – Installed Easily
Globiots PC and Smartphone's Dashboard
Solution Results
Centralized monitoring of temperature from any places.

Temperature of all 6 vaccine cabinets are easily monitored through computers and smartphones.

Time and resource saving

The solution helps customer save up to 20 hours per month by replacing manual temperature record.

Online monitoring of vaccine cabinet temperature

The system immediately sends warnings to the authorized person whenever the temperature are out of the threshold.

Prevent vaccine losses due to power outage

When a power outage occurs, the system immediately activates on site alarm to warn local employees as well as sends SMS messages and emails to authorized people to quickly solve the problem.
System Components
Cloud Globiots Annual Subcription (server, solftware, operation, SIM data), Daviteq