Xomox equipment has affirmed its brand all over the world, with the criterion of always putting quality first. Let's find out what's special about the Xomox wedge valve.
Design more economical, flexible, and compact fluid handling systems. Bi-directional flow, simple actuation, lightweight, compact design, and multiport configurations all facilitate improved system design. 
Superior, longer-lasting in-line sealing. The inert PTFE sleeve completely surrounds the plug. The sleeve provides a large, circumferential sealing surface from port to port. Open, closed, or rotating, the seal is assured. No ball or gate valve can match this sealing power.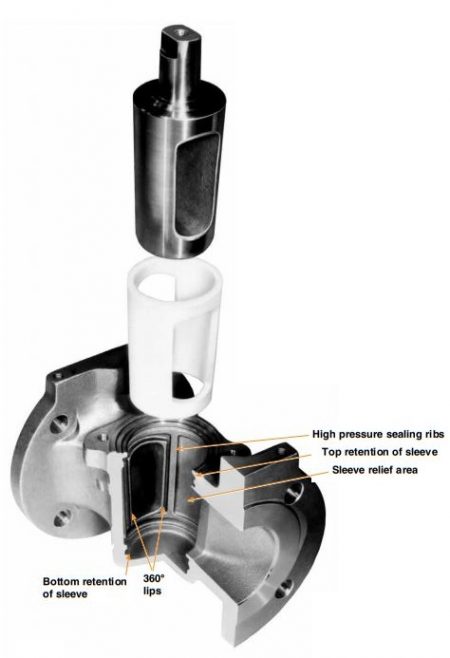 Secure sealing with no cold-flow, deformation, or rotation of the sleeve. The sleeve is securely nestled in the valve body. High pressure ribs, top and bottom retention, and 360° port lips all assure sleeve containment. 
No seizing. No sticking. As the plug rotates, the 360° port lips provide a self-cleaning action to remove scaling and adhering media.
No cavities. No contamination. There are no body cavities where flow media can accumulate and contaminate future processing. This cavity-free design also prevents sticking.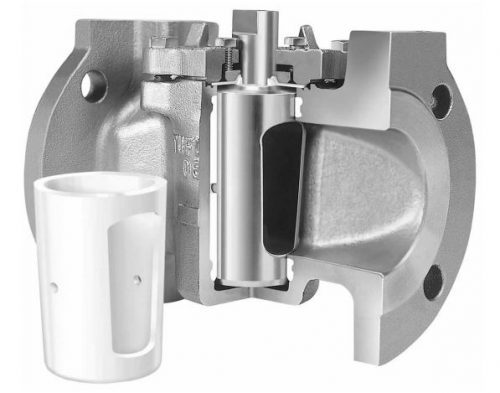 Eliminate unscheduled downtime and maintenance… plus get greatly extended service life. 
Many processors experience dramatic cost reductions when they switch from ball and gate valves. 
A simple turn of the top adjustment bolts keeps the sleeve sealing tightly and the valve in service far.
Two independent sealing systems provide double protection against atmospheric leakage. 
Turn the page for details about this valve's superior double stem seal.
The Tufline® sleeved plug valve pays for itself many times over with more up-time and greatly extended service life. There are two independent environmental seals. You get double seal protection at no extra cost.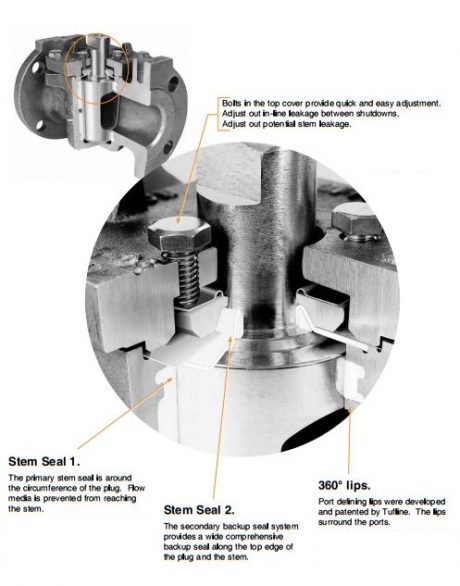 Multiport valves 
Tufline Multiport Sleeved Plug Valves bring economy and more compact system design to thousands of applications. 
Bi-directional flow for more flexibility. In the diagrams the color indicates the path of fluid flow. Bi-directional flow permits more system design options.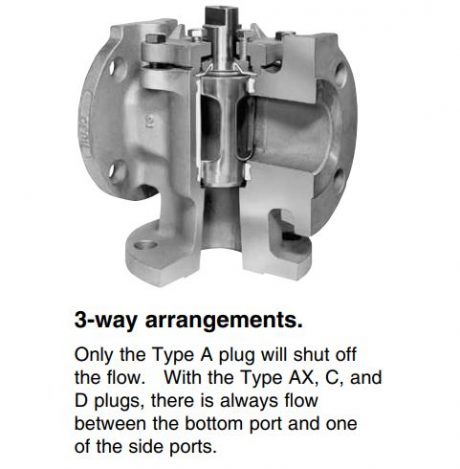 3-way arrangements. Only the Type A plug will shut off the flow. With the Type AX, C, and D plugs, there is always flow between the bottom port and one of the side ports.
4-way and 5-way valves. For optimum system flexibility 4-way and 5-way multi-ported valves are available. 
Fire Tested Valves
Tertiary Top Seal Valves
Caged Plug Valves
Sampling Valves
Additional configurations
Vacuum
Daviteq is proud to be the official distributor of Xomox / Crane optimal solution for industrial factory systems in Vietnam. For more information and support product advice, customers can contact us by email info@daviteq.com.