Saunders diaphragm valves are used in every process industry. Millions of Saunders diaphragm valves are currently installed in process plants around the world and they are renowned for versatility and reliability. So how important is the diaphragm valve and what did Saunders do to elevate the diaphragm valve?
1. What is a Diaphragm Valve?
Diaphragm valve is a type of valve that uses a plastic diaphragm with elasticity to regulate the flow of material. This diaphragm has a latch that connects to the push pin. This push handle moves up and down thanks to the valve lever. When the push pin is lowered, it compresses the diaphragm tightly into the sealing ring. The flow through the diaphragm valve will then be blocked. If the push pin is pulled up, the diaphragm will move along and fluid flow begins to flow through the valve. Diaphragm valves can be used for both the purposes of opening and closing the flow as well as regulating the flow.
Diaphragm valve is designed for aseptic production in the pharmaceutical and food industry with a stainless steel body with controlled sulfur concentration, refined PTFE membrane, ensuring the level of The sterility for maximum efficiency in production.
Structure and Active resource
Diaphragm valve (diaphragm valve) acts as a sealing diaphragm to regulate the flow due to its contact with the moving part of the valve. Diaphragm valves are used for corrosive materials or for substances that require a high degree of cleanliness.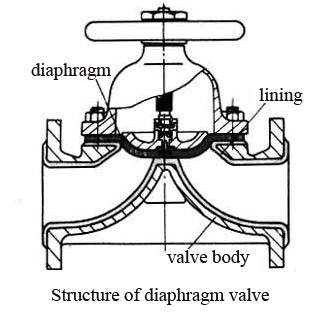 When operating diaphragm valves, do not apply excessive force when closing the valve as this can trap the diaphragm in the sealing ring and damage the diaphragm.
The lowest pressure the valve can handle depends on the membrane material and the temperature of the fluid. Also, valve life is influenced by the physical and chemical properties of the fluid. Furthermore, the hydrostatic pressure of the system should not exceed the maximum diaphragm pressure level.
Diaphragm valve is a two-way valve. Can be used as open / close valve or damper. Diaphragm valves have the advantage when used for low flow applications and cannot be handled by other valves. The fluid flow through the diaphragm valve is very stable, minimizing pressure drop.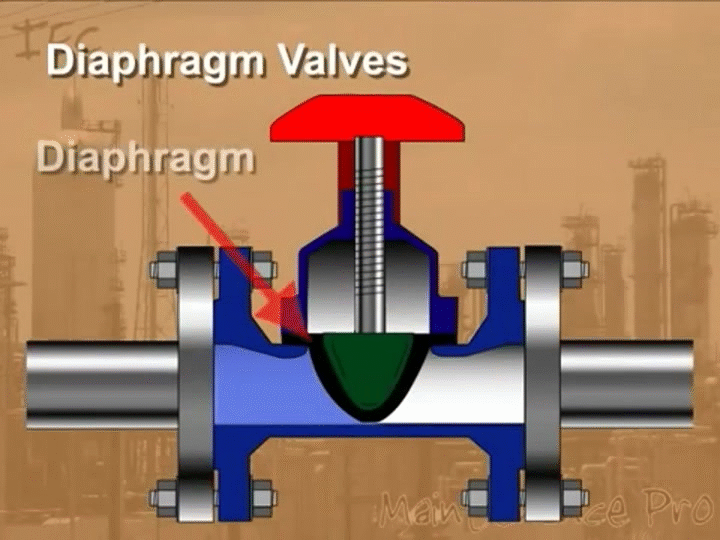 Applications 
Clean / dirty water and air applications

Demineralized water system

Corrosive application

Radioactive waste systems in nuclear facilities

Vacuum function

Food processing, pharmaceutical, and beer production systems.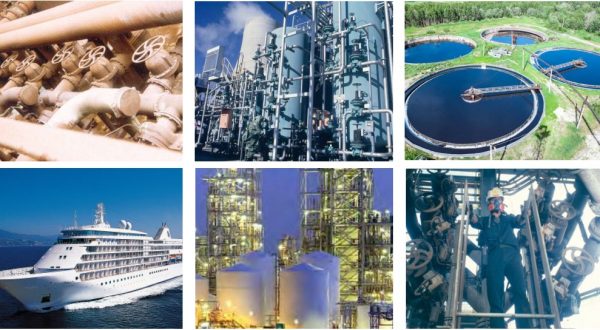 2. Introduced Saunders
Since P.K. Saunders invented the original diaphragm valve in 1928, Saunders has led the way in providing solutions to industries where flawless operation and resistance to corrosion, abrasion and contamination are imperative. Simplicity of design coupled with more than 85 years of innovation has resulted in the Saunders diaphragm valve's ability to handle a wider range of fluids than any other valve type. As a result, Saunders diaphragm valves have gained an excellent reputation for versatility and reliability, establishing a presence in every process industry sector.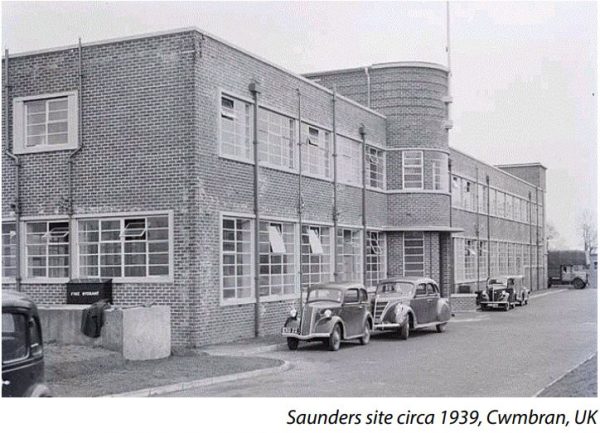 Today, Saunders is an international leader in the design, development and manufacture of diaphragm valves. As part of Crane Co, a diversified global manufacturer of engineered industrial products, Saunders has a strong worldwide presence via dedicated sales companies and distribution partners.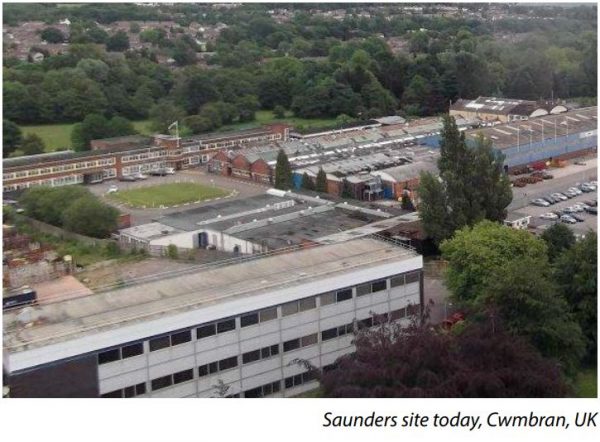 History of Innovation Saunders has led the way in the development of the diaphragm valve to meet the ever-increasing demands of industrial applications: 
PTFE and modified PTFE diaphragms 

Glass and fluorocarbon valve linings 

Non-bonded PTFE diaphragm 

Compact pneumatic actuators 

Three-layer diaphragm for corrosive-gas applications 

Diaphragm resistant to both chemical and abrasive attack (XA grade)
3. Saunders Diaphragm Valve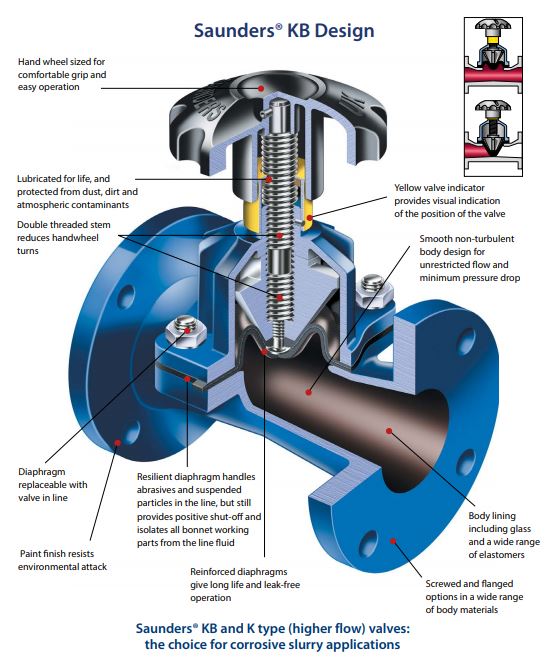 3.1 Corrosion Resistance
At Saunders, we are proud of our core competence, the in-house manufacture of Saunders diaphragms. Our expertise in polymer science assures the best range of diaphragms to suit the most challenging duties with total security. This explains why Saunders diaphragms are a synonymous with longer life, reduced maintenance and higher plant operating efficiencies.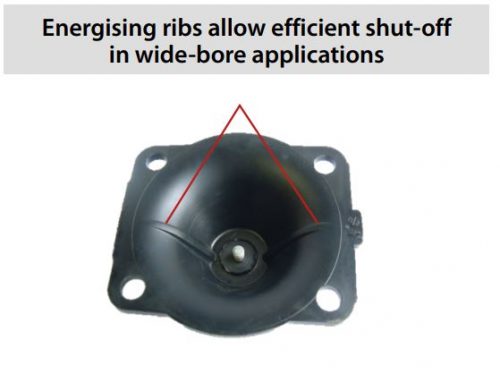 Saunders lined valves are the first choice for highly corrosive applications. Saunders offer an extensive range of linings and diaphragms to suit most applications. Their extensive range of valve options include elastomer and fluoropolymer linings, designed especially to combat corrosion.
In addition to the basic materials, Saunders has invented many excellent diaphragm and certified after nearly 100 years of development.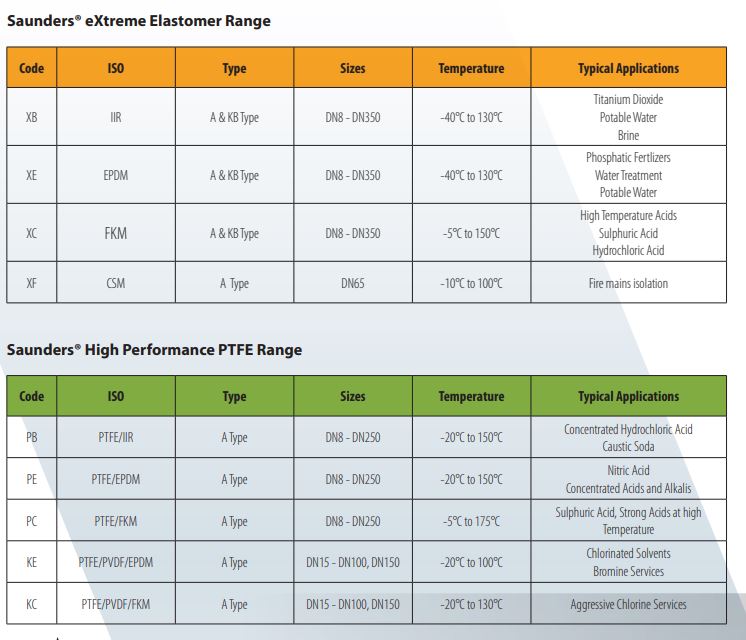 3.2 Abrasion Resistance
Saunders polymer technology provides superior abrasion resistance. The KB straight through valve will handle up to 100% solids and ensure leak-free shut off with a soft rubber diaphragm.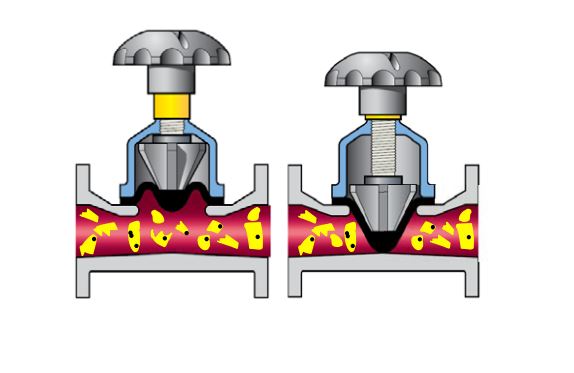 3.3 Leak Tight
In pressure and vacuum services, Saunders diaphragm valves deliver 100% leak-tight shutoff in accordance with standards MSS SP-88 and BS EN 12266-1, even after thousands of operations. This reduces processing and handling costs by eliminating emissions commonly associated with other valve designs.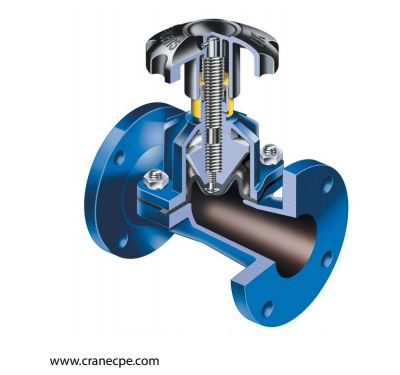 3.4 Operating Mechanism Isolated from Line 
Media All working parts of the valves are isolated from the line media and positive closure is obtained even on frequent cycling or with entrained particulates in the line, unlike other valve types.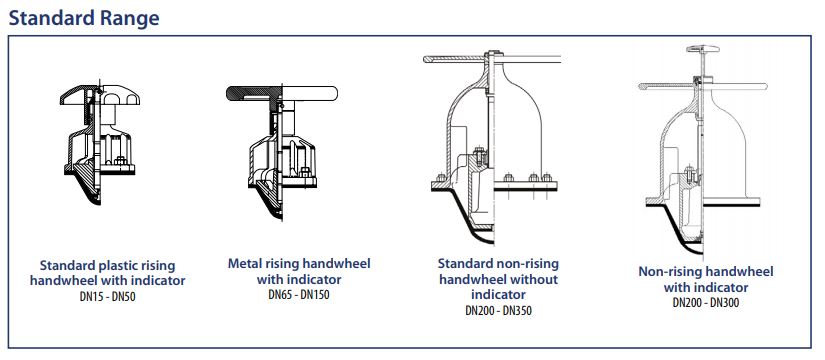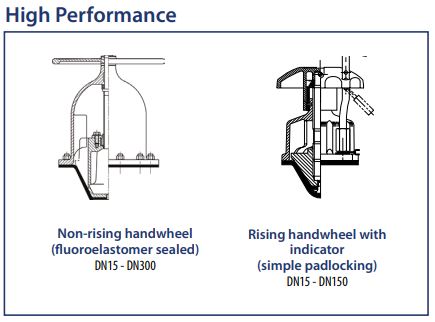 3.5 Easy Maintenance
A three-part design allows maintenance and actuator retrofitting without removing the valve body from the pipeline. Overall, this results in lower cost of ownership compared to other valve types.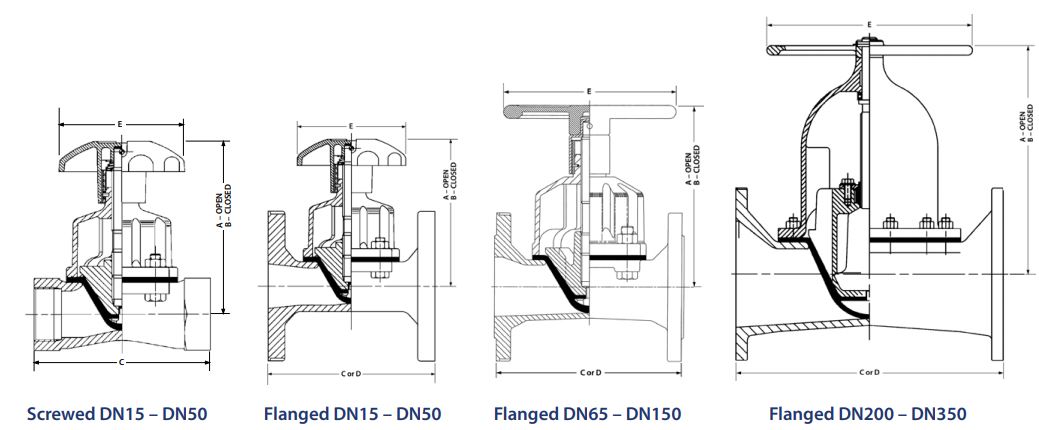 3.6 Linear Operation
Linear movement of the valve eliminates the rotational seat wear that is characteristic of quarter-turn valves, resulting in a longer service life and reduced total cost of ownership. This results in a longer service lifetime.
3.7 Installation Versatility

The Saunders valve can be installed in any position without affecting its operation. However, we recommend installation to be at least six times the pipe diameter from a bend or pump (ten times the pipe diameter if the valve is used for control).
Conclusion: Backed by more than 80 years of experience in polymer technology, Saunders proudly develops and manufactures its own polymer compounds. It is "The Science Inside" our valves which sets us apart. Saunders diaphragm valves are used in every process industry. Millions of Saunders diaphragm valves are currently installed in process plants around the world and they are renowned for versatility and reliability. Customers know they can depend on Saunders for after sales service and technical support from one of our many locally-based sales associates and distribution partners.
Lorawan sensor Daviteq