Leakage incident of toilet water pipeline results in our loss of 800 million VND for hardware damage and other huge loss of 3-day stagnation of business operation in top 3 finance group of Vietnam. With only 30 million VND investment, Daviteq's data center monitoring system automatically calls manager when data center environment is not cold enough or water leakage is on the floor. We do not anticipate that a small water leakage incident leads to all our data center shutdown. In the past, we monitored only server's temperature. With Daviteq's monitoring system, we could monitor other factors which might affect server and other device in data center. With this system, we are peace of mind because the system will call me immediately if any abnormal condition of data center have just arisen.

Nguyen Trung Kien

-

Chief Information Officer
Customer challenges
Expensive servers and network devices are designed to operate with standard temperature and humidity. These devices is easy to damage in contact with water. With a big data center, only temperature and humidity monitoring is insufficient. Missing in monitoring other factors, such as water leakage, result in huge damage for data center. Customer required comprehensive monitoring solution as below:
Temperature monitoring
Humidity monitoring
Power monitoring
Water leakage monitoring
Fire alarm monitoring
Cool air flow monitoring
Door monitoring
Rack open/close monitoring
LED, light monitoring
IoT Globiots solution for data center monitoring
Daviteq's monitoring system includes 10 wireless sensors to monitor different factors in a data center. The sensors connects wirelessly to a 3G iConnector gateway and it transmit data to cloud server through 3G cellular network. User use PC, smart phone, and tablet to monitor data center from anywhere, at any time.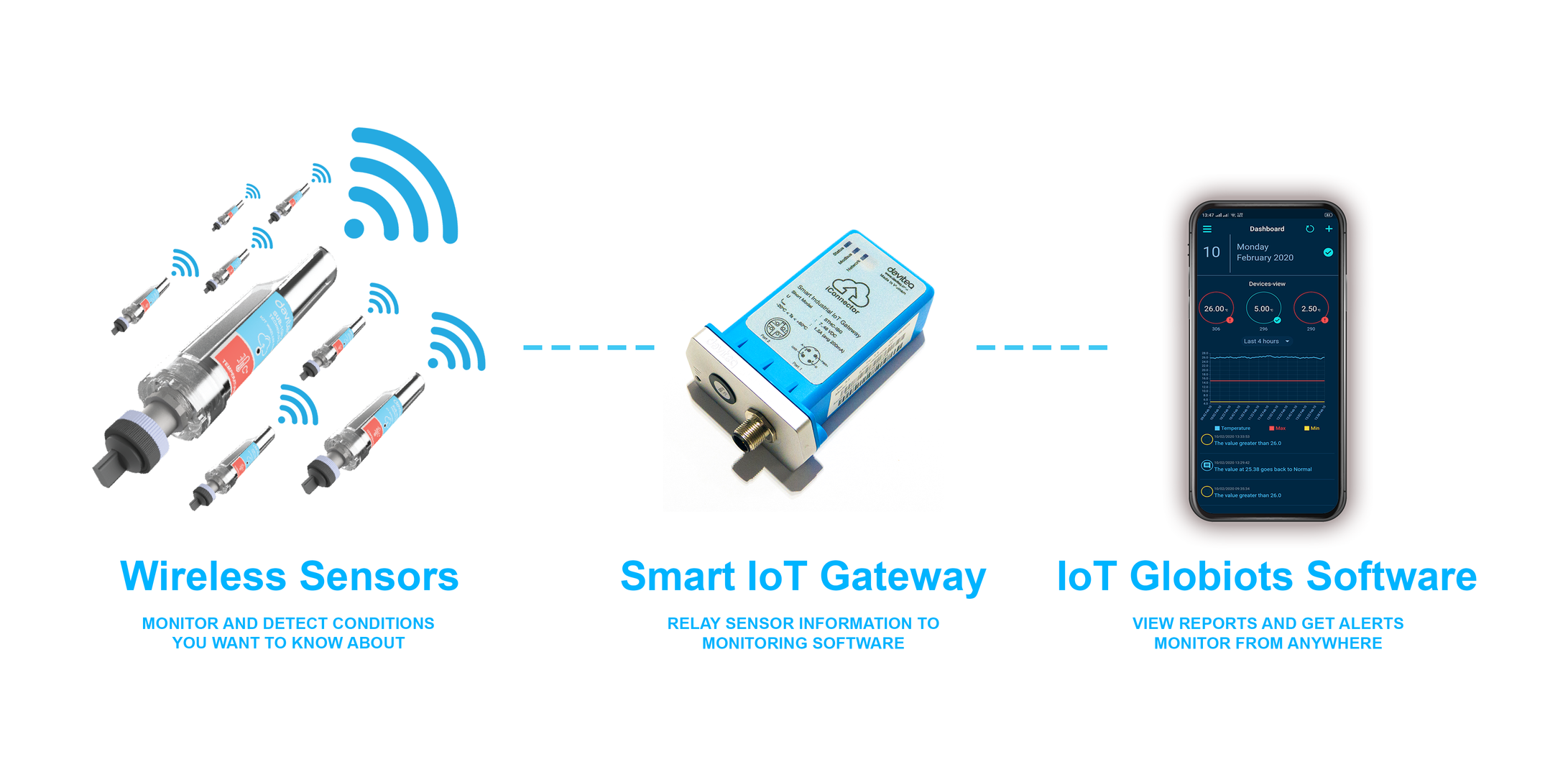 Daviteq's monitoring solution for data center differentiates from other suppliers as below:
Real time 24/7 monitoring
Automatic alarm notification: call, SMS, email
15-minute deployment
"True wireless" system, wireless coverage up to 1000m
Monitor by Android/iOS app
API for 3rd party software
Optimized and flexible investment: lease, commerce, and partnership
Customized functions and reports
IoT/Big Data/AI 4.0 technology
Easy upgrade and expansion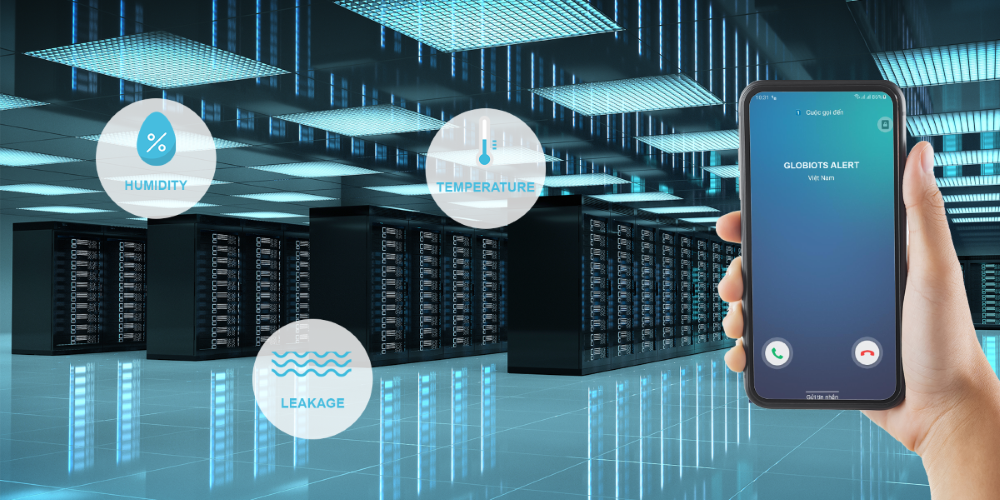 Solution Results
High return on investment
"Leakage incident of toilet water pipeline results in our loss of 800 million VND for hardware damage and other huge loss of 3-day stagnation of business operation in top 3 finance group of Vietnam. With only 30 million VND investment, Daviteq's data center monitoring system automatically calls manager when data center environment is not cold enough or water leakage is on the floor. We do not anticipate that a small water leakage incident leads to all our data center shutdown. In the past, we monitored only server's temperature.
With Daviteq's monitoring system, we could monitor other factors which might affect server and other device in data center. With this system, we are peace of mind because the system will call me immediately if any abnormal condition of data center have just arisen.", Nguyen Trung Kien, Chief Information Officer, concludes.
System Components
Wireless temperature sensor, Daviteq
Wireless humidity sensor, Daviteq
Wireless water leakage sensor, Daviteq
Wireless on/off, open/close sensor, Daviteq
Wireless cool air flow sensor, Daviteq
Wireless optical sensor, Daviteq
Wireless coordinator, Daviteq
3G iConnector IoT gateway, Daviteq
Annual cloud EMS IoT Globiots service (server rental, software rental, operation and maintenance for server and software, SIM data), Daviteq