Strawberry – growing competition between AI Experts and Growers, hosted by Pinduoduo
An agriculture competition organized by the Chinese social commerce platform Pinduoduo and China Agricultural University has kicked off for the final round in Yunnan Province, with AI experts and experienced growers competing to find the best solutions to improve agricultural productivity.
In what's been billed as an agricultural version of the Google DeepMind Challenge Match, four teams of strawberry growers — the "Traditional Teams" — will take on four groups of scientific and AI experts — the "Science and Technology Teams" — in a strawberry growing competition. The purpose of this experiment is to see whether humans or algorithms are better at producing the sweet, vitamin C-rich fruit.
The inaugural Duo Duo Smart Agriculture Competition, organized jointly by the China Agricultural University and Pinduoduo (PDD), is being held to develop planting methods. The result is to find the methods that are best suited for the conditions, using either advanced AI technologies or horticultural know-how. Under the technical guidance of the Food and Agriculture Organization (FAO) of the United Nations, the competition is the first cross-disciplinary agriculture competition organized by a technology company and university in China.
"30 years from now, farming labour will become increasingly rare, which makes unmanned farms and related technological breakthroughs all the more important," said Li Daoliang, a professor at China Agricultural University.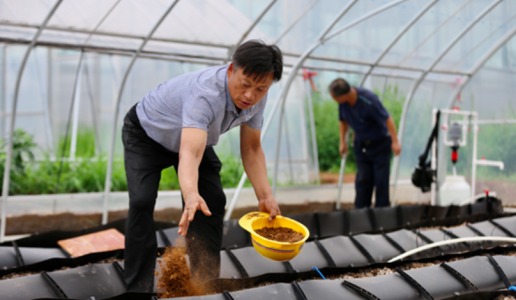 Preparing the strawberry beds before the competition. (Source: Mu Gong)
Throughout the competition, the Science and Technology Teams will remotely grow strawberries in digital and unmanned greenhouses. They will formulate and optimize AI solutions, based on growth data and greenhouse conditions gleaned from IoT devices, cameras and sensors. The aim is to achieve unmanned strawberry production that combines quality and efficiency.
The team with automation, agronomy and engineering experts from universities and institutes in Yunnan Province plans to deploy near-infrared spectroscopy to grow their strawberries. The technology is used to quantify crop parameters such as water content, sugar content and other indicators of ripeness. Besides, it measures the need for nitrogen-based fertilizers, or to look for bruising not easy to detect.
"In real-life agriculture, as long as you can help farmers solve a small practical problem, it will have a big impact in terms of lifting the quality and quantity of production," said Cheng Biao, the team leader.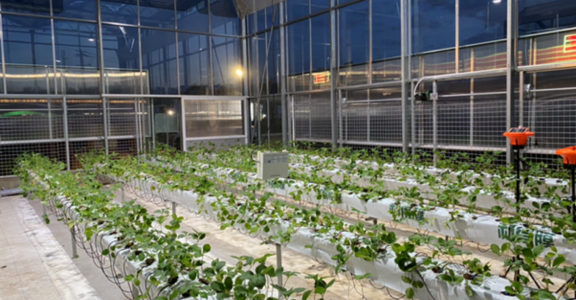 Inside the greenhouse venue for the Smart Agriculture Competition in Yunnan. (Source: Li Dong)
The traditional teams, on the other hand, will rely on their collective experience in planting and skills in agricultural management, to upgrade traditional smallholder production and challenge the AI systems developed by their counterparts.
The Vice President of Pinduoduo, Qiu Chen, said the competition provides a platform to combine AI technologies with agricultural production to provide a low-cost and easy-to-operate way to manage the farming activities.
"A small step in the front-end technological advancement may solve problems of farmers and provide a more stable supply chain of agricultural produce," Qiu said. "Pinduoduo will raise the investment in R&D of the agricultural sector, bringing actual benefits to farmers."
Source: Pandaily.
For more Industry News, please check it out here. We will be updating the latest news every week.
Let us know which market/industry you would like to read more so we can re-prioritise accordingly.