28/05/2019
ISA Vietnam Event 2019
In a cooperation of ISA and PVN (Petro Vietnam), ISA Vietnam Event 2019 will be held at Sheraton Saigon Hotel on June 13th 2019. The event features the innovations as well as the solutions to the current challenges and hardship in field of Automation Technology. As a pioneer in Vietnam Automation Society, Daviteq's pleasured to participate and present our signature products in such an event and it's obviously our great honor to have our clients and partners there beside us to pay your valuable time and observation to our new achievements.
This year's topic of ISA Vietnam 2019 Event is a conference on Petroleum and Gas which aims to the exploration of innovative designs and applications for this particular industry. According to the ambition of the event, Daviteq's going to contribute our Wireless Sensors and Smart Gateway, which are specific designed to meet all rigorous standards of Petroleum Industry, to diversify the category of product in this exhibition.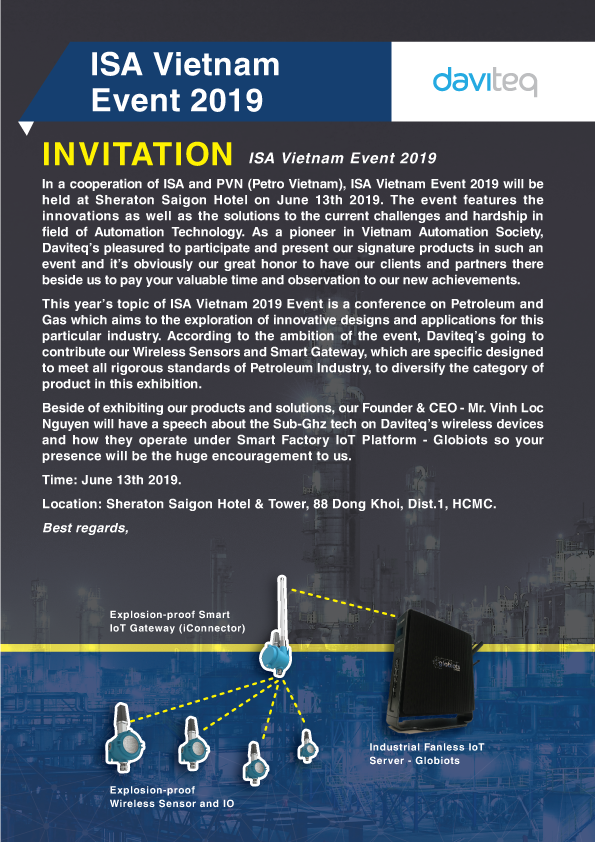 Beside of exhibiting our products and solutions, our Founder & CEO – Mr. Vinh Loc Nguyen will have a speech about the Sub-Ghz tech on Daviteq's wireless devices and how they operate under Smart Factory IoT Platform – Globiots so your presence will be the huge encouragement to us.
Time: June 13th 2019.
Location: Sheraton Saigon Hotel & Tower, 88 Dong Khoi, Dist.1, HCMC.
Best regards,